Crunchy Baked Granola Bars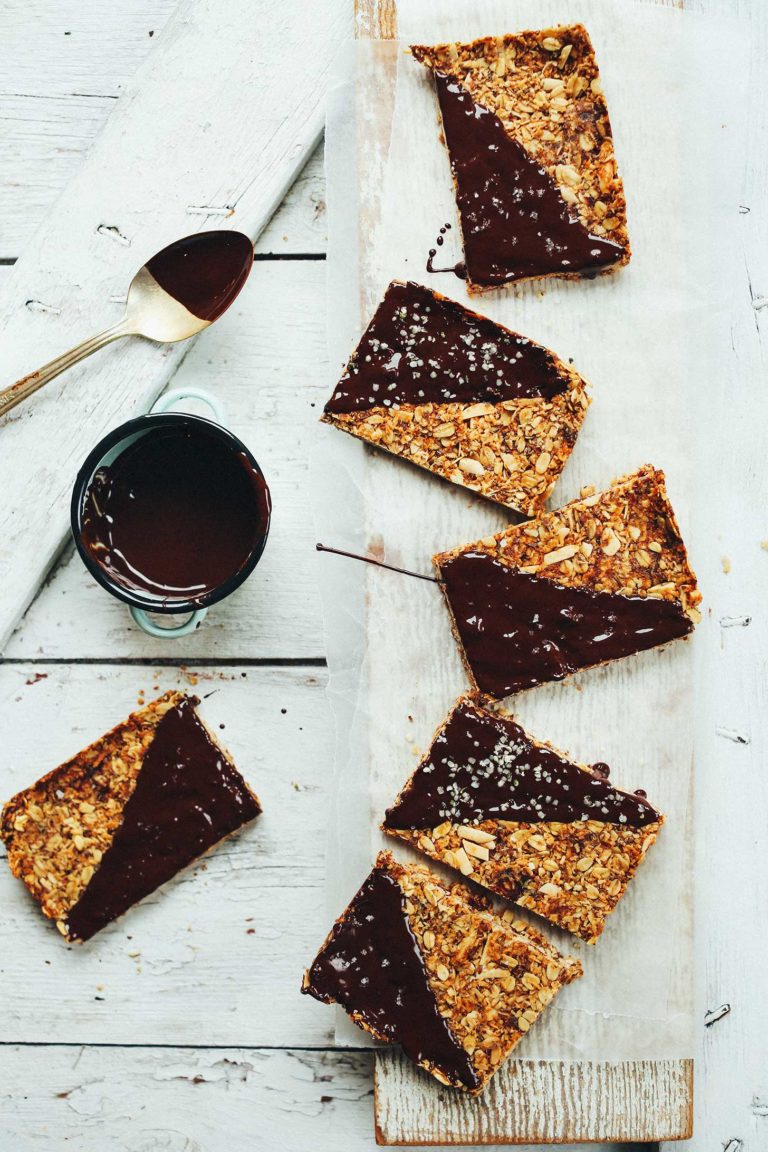 CRUNCHY BAKED GRANOLA AND DARK CHOCOLATE BARS
Who doesn't like a bit of chocolate as a healthy snack?! I know right…..
Well, the Minimalist Baker one of my favourite website for healthy recipes, just nailed this one!
Gluten-free baked granola bars that are super crunchy, naturally sweetened, and packed with fiber and protein! 9 ingredients and so easy to make.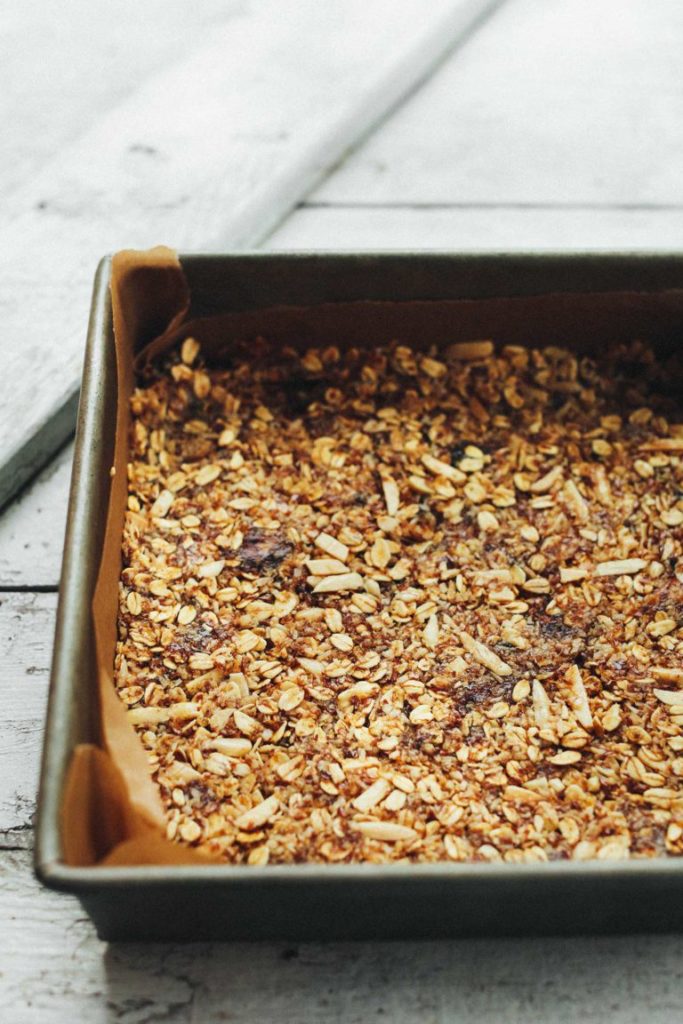 Ingredients:
Granola Bars
1 cup (90 g) rolled oats
1/3 cup (30 g) raw slivered almonds (or sub sunflower seeds or other nut)
1/4 cup (28 g) flaxseed meal
2/3 cup (49 g) desiccated unsweetened coconut (if large flakes, chop or blend into small pieces)
1/4 tsp sea salt
1/3 cup (~ 5 dates or 35 g) chopped dates (or sub another sticky dried fruit)
2 Tbsp (32 g) almond butter (or another nut or seed butter)
2 Tbsp (45 g) melted coconut oil
1/4 cup (60 ml) maple syrup (or sub brown rice syrup for a less sweet bar)
For Topping – optional
1/2 cup (60 g) chopped vegan dark chocolate
1 Tbsp (15 g) coconut oil
1 tsp sea salt or hemp seeds
Instructions
Preheat oven to 350 degrees F (176 C) and arrange oats and almonds on a bare baking sheet. Bake for 10-15 minutes or until slightly toasted. They shouldn't be browned, just slightly toasted for more flavor. Reduce oven heat to 325 degrees F (162 C).
In the meantime, add flaxseed meal, desiccated coconut, and sea salt to a large mixing bowl and stir. Set aside.
Once oats and almonds are toasted, add to the mixing bowl along with chopped dates. Loosely stir to combine and set aside.
Add almond butter, coconut oil, and maple syrup to a small saucepan and bring to a low boil over medium heat, stirring occasionally. Then remove from heat and immediately add to the oats (see photo).
Use a mixing spoon (or your hands) to mix thoroughly, ensuring that the dates and the almond butter mixture are evenly dispersed and coating all of the dry ingredients.
Add the mixture to a parchment-lined 8×8-inch baking pan and spread into an even layer. Then top with another layer of parchment paper and press down with something flat – such as a measuring cup – to press into an even, uniform layer.
Bake at 325 degrees F (162 C) for 20-25 minutes or until the edges are golden brown. Remove from oven and let cool in the pan. Transfer to the freezer to speed cooling time.
Once cooled, lift out of the pan and slice into desired number of bars. I went with 6 bars, but you could easily do 8 bars or 12 squares.
Optional: Melt dark chocolate and coconut oil in a small mixing bowl in the microwave or over a double boiler on the stovetop. Spoon a small amount over the bars in a drizzle pattern or cover half of the bar with chocolate. Top with sea salt or hemp seeds.
Once bars have dried/cooled, store covered at room temperature for 5 days or in the freezer up to 1 month.