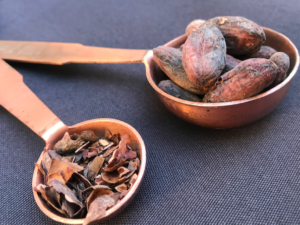 So, what is Cacao tea?
Cacao tea – also known as Chocolate tea – is made from the outer shell of cacao, or the cacao husk.
The first time I had cacao tea was the day that I made my first bean to bar. I thought to myself; " I wonder if you could use these husks for something ?" After a little research and 3 minutes boiling….there it was, my new favourite drink.
This tasty drink also has an amazing journey on its path to reaching you mug! First you need to plant a seed, then wait 3-5 years to crop, ferment, dry, roast and finally winnow the cacao itself.
The last phase, which is the winnowing, crackers the cacao nibs and separates them from the cacao husk. Mostly, these are thrown away, which is crazy, however they're also used to create delicious, nutricious chocolate tea!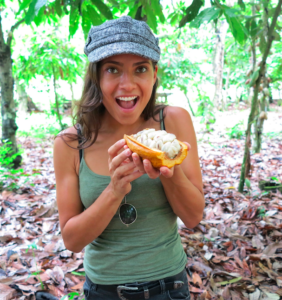 Health benefits?
Cacao tea is all natural, rich in antioxidants, zero fat, full of vitamins & minerals and the best part, has no caffeine.
Cacao tea contains an alkaloid called Theobromine which has a boosting effect similar to coffee but also helps balancing serotonin levels.
It's amazing for those avoiding caffeine but still wants a kick. The best news is still to come….
If you crave that milk creamy chocolate after lunch, have a cup of tea and I guarantee the craving will be gone!